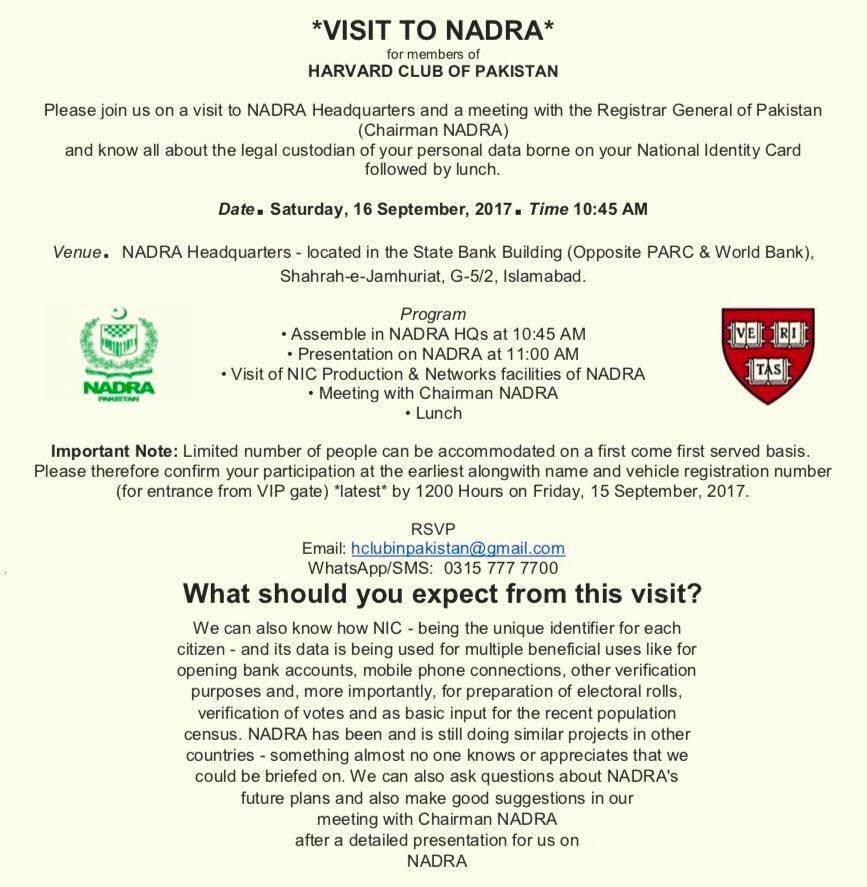 The Harvard Club of Pakistan organized a visit to the Headquarters of National Database and Registration Authority (NADRA) in Islamabad for Harvard Alumni on 16th September, 2017. Spearheaded by Afnan Kundi, the current President of HCP, the event was attended by 26 people (19 alumni and 7 family members).
Event involved a meeting with the Registrar General of Pakistan (Chairman NADRA) and a tour of NADRA's NIC production and networks facilities, followed by a networking lunch.
The alumni had a more than two-hour long interactive session with Chairman NADRA who gave a very detailed and informative presentation about NADRA and also answered several questions asked by the alumni. Chairman NADRA informed the alumni about the organization's evolution since its inception and its national as well as international engagements to date. The alumni had the opportunity to exchange ideas with the Chairman about various aspects of NADRA's role in the country and its future plans.
Feedback received from the alumni rated the event as very instructive and useful. The wealth of information they gathered about NADRA's functioning as the national registry of citizens and its contribution in areas of good governance in the country was greatly appreciated.
The event was a resounding success and was the first Islamabad-based event of what is expected to be a very eventful year for HCP!
FEEDBACK FROM ALUMNI:
Loved the opportunity to learn so much about NADRA and its history. I had no idea that they were involved in so many engagements locally as well as internationally. Really appreciated the one-on-one time the event afforded the alumni with the Chairman for exchange of ideas. A spectacular way to kick off events in Islamabad! Congrats and many thanks to the organizers for putting this together. Looking forward to more!
-Muhammad Zia Mehmood
It was an excellent event. Thanks for affording the opportunity. Good turn out.
- Aziz Nishtar
The visit was informative and inspiring. Thanks for affording us the opportunity to spend the time usefully.
- Dr. Tariq Hassan
Today's event was very well-organised. It was interesting and informative. We enjoyed the presentation, discussion, visit to working area and the lunch. Well done! I will be very happy to be of any assistance in holding an event for Harvard Club.
- M. Saleem Siddiqi
Congratulations on organizing a fabulous event for Harvard Club members. It was indeed a great learning opportunity for all of us. I have recently moved to Islamabad so would be happy to help with future events.
- Kamran Kamal
Great event, well organised. A very feel good presentation for me as a Pakistani. Perhaps more active moderation can make it more interactive for everyone. I loved the waiters in their very formal attire. Everythig about this place spoke of high national self esteem Mashallah!
- Ayesha Fazlur Rahman
My sisters and I really enjoyed the presentation and visit and feel a lot more educated!
Iris important in such functions that they start and end strictly on time.
I will prepare other suggestions based on my long experience in organising seminars and conferences at various levels within and outside Pakistan.
- Idrees M. Anwar
Good job. The event was interesting and informative.
Suggest[ions]:
1) a talk by a security analyst, keeping in view the current national and international scenario.
2) a small scale seminar/discussion on any social issue.
3) Informal get together such as a day's outing/picnic, as this will help knowing each other well.
- Shahid Nadeem Baloch
Excellent show. Thanks to a young and energetic Chairman Nadra and our president Afnan.
- Khursheed Ahmad Khan Marwat